Others
Home

>

Free Delivery Service(Hong Kong Branches)
Free Delivery Service(Hong Kong Branches)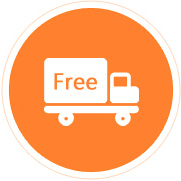 Free Delivery Service applicable to:
Any purchase of bulk pack of Bird's Nest, Chinese Cordyceps etc. (any Gold Point Products) over HK$10,000
Any purchase of Dried Seafood, Health Products etc. (any Silver Point Products) over HK$2,000
Any purchase of products which weight over 10KG (16.5 Catty) are entitled to enjoy the free delivery service
Terms and Conditions:
Delivery service is only available in Hong Kong. Our delivery service does not cover Mainland China or overseas. (Delivery service is also not applicable for shopping at our Mainland China and Macau branches.)
An additional fee of HK$100 will be charged for deliveries to outlying islands
Deliveries to Discovery Bay or Ma Wan also have an additional fee of HK$ 100.
An additional fee of HK$10 will be charged for each floor starting from the fourth floors, for any deliveries to buildings without a lift
Our staff will contact the customer 15-30 minutes before arrival to ensure the goods can be received. If we cannot reach the customer, we may have to re-schedule. Therefore we kindly request the customer to ensure a contact person is reachable before delivery and available to receive delivery. If we cannot deliver the goods to the customer successfully on our second attempt, the customer will need to pick up their purchases at the branch where the order was placed.
Purchases on that share the same sales invoice will not be delivered to multiple addresses.
As all vehicles are prohibited to enter into Ma Wan after 4:00p.m., delivery to Ma Wan is only available from 10:00a.m. to 4:00p.m.
Delivery service is not available at: The 1st to 3rd days of the Lunar New Year.
In the case of a lift being out of service on the day of delivery, every effort will be made to deliver the goods, or arrangements will be made to re-schedule for another convenient time
Delivery will be suspended whenever a typhoon signal No.8 is hosted or black rainstorm warning is in effect. Arrangements will be made to re-schedule.
All products sold are under our terms and conditions of refund or change of product(s).The customer will need to bring along her purchase together with its sales invoice to our branch in order to be changed 
Once the products are arrived to the requested delivery location and confirmed of receipt by customer, HK JEBN Ltd. completes all our responsibilities of delivery.
Due to certain possible environmental reasons, the customer may be asked to receive the order at some other agreed location.
All delivery must be arranged within 7days after the purchase.
If the first delivery appointment is cancelled, the delivery can be arranged again only once and within the 7days.
HK JEBN Ltd. reserves the right to make any amendments to the terms and conditions without prior notice. HK JEBN Ltd. reserves the right to make the final decision in case of any disputes.